Pest Inspections, Management

and Control for South East Queensland
Skippy Pest Control is a family-owned and operated business providing pest inspections, management and control to countless satisfied clients across South East Queensland.
We are committed to providing friendly, results-focused quality service to our clients that consistently exceeds expectations. Lead by owner/operator Dan McCloskey and his wife Jan, Skippy has become well known and renowned for being an industry leader in providing pest management and control solutions. With over 20 years of experience in the pest control and management industry, our vast knowledge in all areas of pest control ensures that there is no pest problem we can't solve!
Our clients can be assured that we will always:
Listen and actively communicate with you during the whole process
Show up on time
Assess the problem and give advice, all free of charge
Suggest a pest management and control program when required, and convey the expected outcomes
Implement the most appropriate and effective pest management program
Stand by our service warranty
"Fulfil the client's request through attention to detail, knowledge and commitment to building a lasting relationship."
History and Technological Advances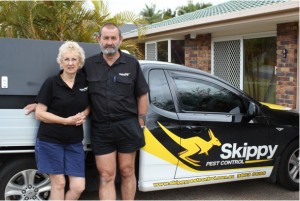 Specialising in timber pest management, Dan entered the pest control industry in 1988 under the guidance and training of one of Australia's largest pest control companies. During this time he accrued vast experience and knowledge in the field of termite control through working on multi-story buildings, large storage and dispatch areas, office buildings, bridges, shopping complexes, schools, childcare centres, apartment buildings, retirement villages, heritage-listed properties, unit complexes and residential houses.
Drawing on this vast knowledge and experience in providing pest inspections, management and control, Dan is more than qualified to offer advice and assistance to property owners in all areas of South East Queensland. Technology over the years has introduced new equipment to help with the detection and eradication of pests, especially within the termite management and control sector.
Skippy Pest Control has the most up-to-date and efficient equipment to assist Dan in advising and guiding clients through the process of treating their properties, ensuring homes and businesses are kept a pest-free environment through suitable management and control.
Through the advance of technology outside of the industry, particularly in thermal imagery, Skippy has partnered with a professional thermal imagery company that uses state-of-the-art cameras with a far greater resolution than those generally used within the pest control and management industry. Should the need arise, we will bring these cameras in for consultation.
All staff regularly attend workshops and conferences within the pest control and management industry to remain educated in the most up-to-date processes and procedures. Through continuing education, we are able to provide the most effective and cost-efficient services and products to our clients.